1. Laser musical dancing fountain;
2. water screen fountain for movie laser projecting;
3. location: phu quoc island, vietnam
.
Images flying in the air, comeing out form darkness, our water screen allows video and laser projection for magical effect!
Our engineers have develped the best quality surface for projection which answered and still answers to major shows productions' expections around the world.
installed in a pool, lake or into the sea, the water screeen offer a water sufface with complete transparency without any visible structure.
with millions of wahter drops spread and falling on the back, our water screeen creates a volume of water which gaives and very imoressing feeling of 3D effect.
Inspection
All the product has been tested before the shipping.
the equipment is manufactured in our workshops and
checked in our testing pool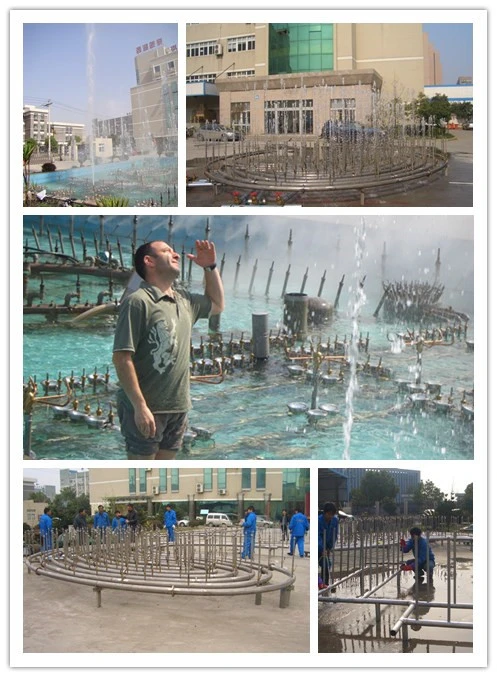 Our Services
We provide one - stop service( turn-key job ).
Project manager, Designers, engineers, electricians and electronic, hydraulic and computer engineers design, research and produce all our products and services form start to finish.
Civil construction guidance

Provide CAD drawing

within 10 days,

after confirmed

Fountain operation instruction

Fountain maintenance institution

24 hours feedback

Dispatch the laber/engineers/project manager for installation

Professional and

Experienced team for oversea projects
Installation and tainning Team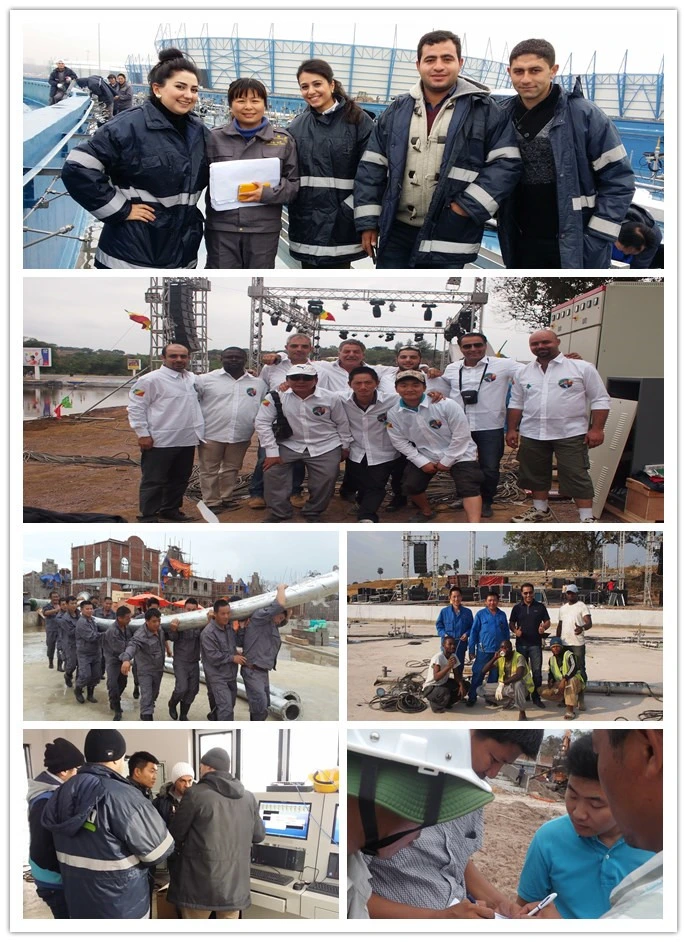 Company Information
Hangzhou West-Lake Fountain Installation Serials Co., Ltd. was found in 1989, which is one of the largest and qualified fountain makers in China. We obtained ISO9001:2008 Certification in 2011. In 2003, our company was designated as a supplier of the Ministry of Construction. We were evaluated to be the R&D base of musical fountains, laser waterfall fountains, and atomization equipments by the Institution of Science & Information.
Our products are utilized in many national, provincial, and foreign projects, and we enjoy a high prestige in the industry. Our domestic clients are more than one thousand. Our products are sold to the USA, Mali, Denmark, Vietnam, Thailand, Laos, Egypt, Romania, Ukraine, Iran, Hong Kong, and Taiwan area.
Our Design Team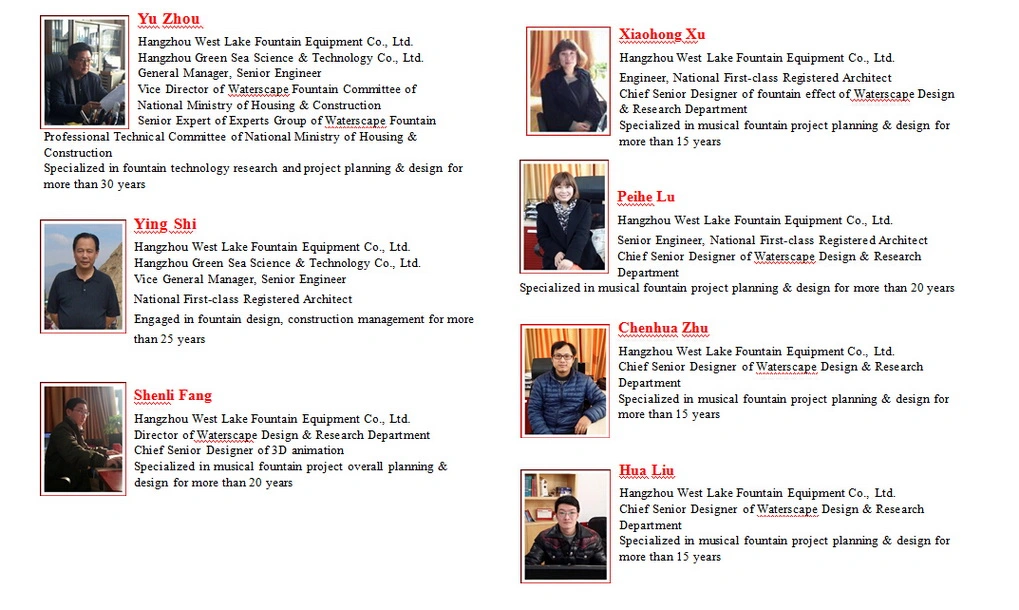 FAQ
Process about fountain projects .

1. Goverment or Investors make an investment decision for fountain project.
2. By the professional company to complete the design and budget pricing. (Usually takes 15 days)
3. Goverment or Investors make the decision for the final plan and budget. (Usually takes 10 days)
4. Choose the professional company to talk about the cooperation details and sign the contract. (Usually more than 15 days)
5. Goverment or Investors finish the pool's civil work, like the water supply,power,and control room. (Usually more than 15 days)
6.For the project,fountain company should Pre-purchase Pumps,cable and so on, and manufacturing fountain pipes and nozzles. (Usually small project takes 30 days,big project takes 60 days or more)
7.The fountain equipment package and shipment to the Destinations. (Usually takes 30 days or more)
8.On-site installation, commissioning, formal fountain show. (Usually takes 20~30 days or more)

The No.5&6 can do at the same time.So the total time takes about 4 months, if special circumstances can be shortened one month. But your project is big project,so i think maybe more than 5month.
Let me know your project:
1.

Fountain Type. (Musical/N

on-music)
2.

Fountain Site & Size (picture or CAD drawing with size and

water quality

)
3.

The b

udget for fountain.
Hangzhou West-Lake Fountain Installation Serials Co., Ltd.
Web:
hzxhpq.en.made-in-china.com