Advantages
1.The work surface of internal cabinet is made of stainless steel, flat and smooth.
2.Outer casing is made of high-quality cold-rolled steel or stainless steel sheet.
3.Apply mechanical or electronic interlocking, effectively
4.prevent both sides of the door opening at the same time.
Material Instructions
1.Casing material: Outer casing is made of high-quality cold-rolled steel sheet or stainless steel plate; inner casing is made of stainless steel plate.
2.
Inter locking way: Mechanical interlocking or electronic interlocking.
3.
Intercom system: Bell type; between the door sides person communicate by phone.
4.
Glass sash: Yellow sticker, anti-UV and anti-static
5.Sterilizer: UV sterilizer.
Application
Mainly used when goods should be delivered between clean areas or delivered from clean area to non-clean area, it is to minimize the contamination of clean room.
Structure Drawings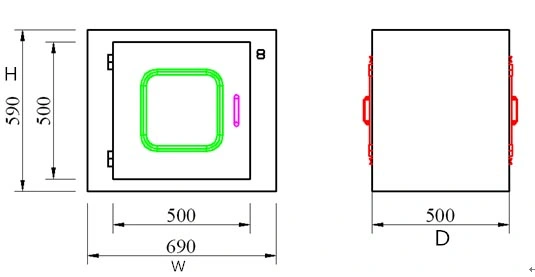 Common Specifications

Model

External Dimensions

Working Area

(W×H×D)

(mm)

(W×H×D)

(mm)

HBX-555

690×590×500

500×500×500

HBX-556

690×590×600

500×500×600

HBX-666

790×690×600

600×600×600

HBX-667

790×690×700

600×600×700

HBX-777

890×790×700

700×700×700
Note: 1. In case of specifications
or structures changes, HEFIL will provide up-to-date data on website: hefilter.en.made-in-china.com.
2. HEFIL makes various of other models' HBX filter not listed in above ta

ble. Please consult with us if you nee

d.