High Efficiency Automatic Water Fountain VAT Purified Water Seal Label Filling Machine

Technical:
| | | | |
| --- | --- | --- | --- |
| Model | ZPC-12 GFP-12 YQX-3 | ZPC-18 GFP-16 YQX-4 | ZPC-24 GFP-24 YQX-6 |
| Production b/h | 800-2000 | 2000-4000 | 4000-6000 |
| Bottle height(mm) | 160-300 | 160-320 | 160-340 |
| Motor power(kw) | 3.2 | 4.2 | 5 |
I. Water Treatment System
Water treatment system refers to the measures taken to make the water quality meet certain use standards. The physical characteristics of water, such as temperature, color, transparency, odor and taste, are filtered or treated so that water can be used directly for drinking or other purposes.
Raw water pump: connect to raw water,we supplier the best supplier Nanfang pump or Grundfos pump.

Silica sand filter: as a filter medium can effectively intercept and remove suspended matter, organic matter and some heavy metal ions in water under certain pressure, thus reducing the turbidity of water.

Active carbon filter: can filter chlorine content in water: <0.1PPM,It can also reduce turbidity, chroma of water, purify water quality.
Sodium ion exchanger (softener): is used to remove calcium and magnesium ions from water, thus obtaining softened water.

Precision filter: adopts PP filter membranes which has high filtering precision, less than 0.1um particles, strong ability of intercepting pollution and long service life.

Reverse osmosis: is composed of reverse osmosis membrane (RO), high pressure pump and washing system,It can intercept substances larger than 0.0001 micron. and allow water molecules to pass through.

UV: After the RO system, the bacteria in the water are eliminated by using the UV sterilizing lamp.

Ozone: It is a strong oxidant, which can quickly kill bacteria in water and air at a certain concentration.

Finished water tank: is used to store filtered pure water, which is connected with filling machine for application.

Different water sources with different equipment configurations. We will jointly choose the most suitable water treatment system for you!
II. Linear Type Washing Filling Capping
This production line including automatic washing,filling and capping device and conveyor system. The line is made of high quality stainless steel, with advanced technology,Stable production and simple operation. This line can do water, juice and carbonated drink etc...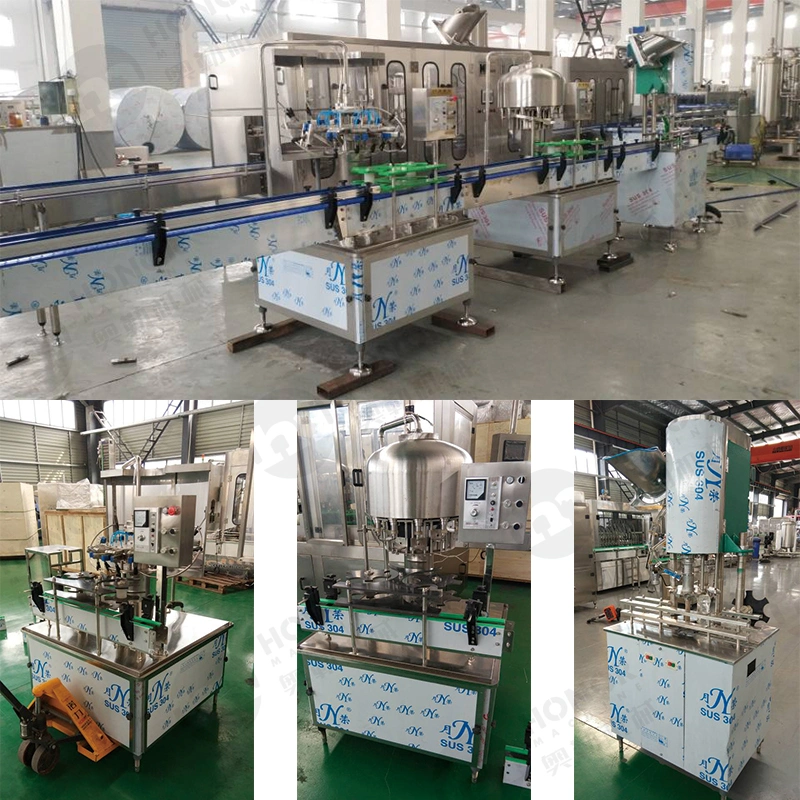 Item
Parts Name
Brand
Brand
1
PLC
SIEMENS
Germany
2
Inverter
3
Touch Screen
4
Switch
5
Contactor
6
Relayer
7
Solenoid Valve
AIRTAC
Taiwan
8
Drive motor
FEITUO
Swiss
9
Reducer
CNP
China
10
Water Pump
SKF
China
11
Main Bearing
AUTONICS
Sweden
12
Sensor
AIRTAC
Korea
13
Air component
ABB
Taiwan
III. Semi Automatic Sleeve Labeling Machine
Semi automatic sleeve labeling machine is including:
1) manual table
2) label shrink tunnel
3) steam generator

It is suitable for all kinds of drinks, such as fruit juice, tea beverage, dairy products, pure water, beer, sports drinks and other food and beverage industries. It not only has high accuracy of labeling position, but also can highlight bottles and perfect bottle-shaped after shrinkage.
Flexible choice of all kinds of bottle type: round bottle, square bottle, elliptical bottle etc. can also choose the bottle mouth or body.
IV. Semi Automatic Shrink Wrapping Packing Machine
Product introduction: Specially designed for beverages, pure water, fruit juice, wine and other drinks.



This machine is widely used in beverage ,food ,medicine ,etc.The bottle can be square ,round and oblate,the cost of packing is low ,the appearance is good .This machine adopts optimal design,controlled by electric component automatically,it is convenient to change the bottle and the specification of the packing .It can also adjust the hot wind cycle structure ,it is fit for many kinds of hot shrinking film,it is easy and quick to change the film ,the good electric component.The whole machine adopts the good stainless steel and premium-priced carbon steel .,it is durable ,available structure ,also can save the energy.
V. Semi Automatic Bottle Blowing Machine
Semiautomatic bottle blow molding machine is suitable for producing PET plastic containers and bottles.

It is widely used to produce the carbonated bottle ,mineral water,carbonated drink bottle, pesticide bottle oil bottle cosmetics,wide-mouth bottle etc.

1)Adopting double crank to adjust mould ,heavy locking mould, stable and fast ,Adopt infrared oven to heat the perform ,the perform rotated and heated equally.
2)The air system has been divided into two parts: pneumatic action part and bottle blow part to meet the different requirements for the action and blow .It can provide sufficient and steady high pressure for blowing large irregular shaped bottles.
3)The machine is also equipped with muffler and oiling system to lubricate the mechanical part of the machine.
4)The machine can be operated in the step-by-step mode and the semi-auto mode.
5)The machine is small with low investment, easy and safe to operate.